Just recently I bought myself an early birthday present; the Kindle Paperwhite. As I had my friend from the United States purchase it for me. It only occured to me that the device I have is the one with advertisements.  Now at first I was not too concerned about the special promotion on the main menu, however what truly annoyed me was the screensaver which would feature ads every time the device was set on standby. Now I'm sure that I am not the only who is annoyed by this, as I have seen many people posting questions on forums asking how can they remove the ads from the kindle. Now most people would suggest having the Kindle Paperwhite hacked or to be in state of jailbreak, which frankly I do not wish to do as there is a risk of permanently causing your Kindle to stop functioning altogether.
Anyway here are some easy steps on how to remove ads from Kindle Paperwhite.
For a new Kindle Paperwhite
1. Turn on the device, there should be power as the device would be pre-charged.
2. Select your default language
3. Connect your decide to your Wi-Fi
4. After you have connected to your Wi-Fi, select "create new account"
5. On the "Create a new account" page choose the country you are in and leave the rest blank and press finish later. This will ensure you device is not registered to Amazon, which therefore means you will not be getting ads on your device.
However on the slight downside, you will not be able to access your cloud and are limited to some of the functions. However like me, I store my personal collection of books on my pc. Not really fan of the cloud service to being with. So if your question is how do I transfer books from your PC to the Kindle. The answer is, use the Calibre E-Book Management software which is available for free.
For Registered Kindle Paperwhites
For those who are already registered with Amazon and have books on their device. Have no fear I have a solution for you as well.
1. First make sure you have Calibre installed on your PC and backup all your books on your Kindle.
2. From the Home screen, select Menu 
 and then select Settings.
3. Select Registration, and then select Deregister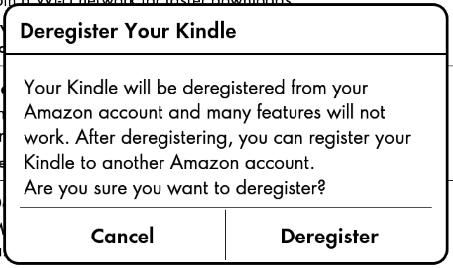 4. After you "Deregister your Kindle" the device will reboot and you can follow the steps mentioned above (For Registered Kindle Paperwhites)
I hope my guide on how to remove ads from the kindle Paperwhite helps, remember that there are some functions that will be unavailable to you when using this method. However if this doesn't cut it, then you can always pay the additional fee to permanently remove the advertisements all together.
Latest posts by Andy Saiden (see all)