Now when you think of IKEA the first thing that comes to mind would probably be self assembled furniture or a plate of meatballs. So when I recently came across a snap & win contest organised by IKEA I was very surprised to see that the prize was a digital camera. Yes a camera designed by Jesper Kouthoofd of IKEA, made using flat pack cardboard. There is probably a "Made in China" print somewhere hidden under the cardboard and you could probably categories it as the worlds cheapest digital camera.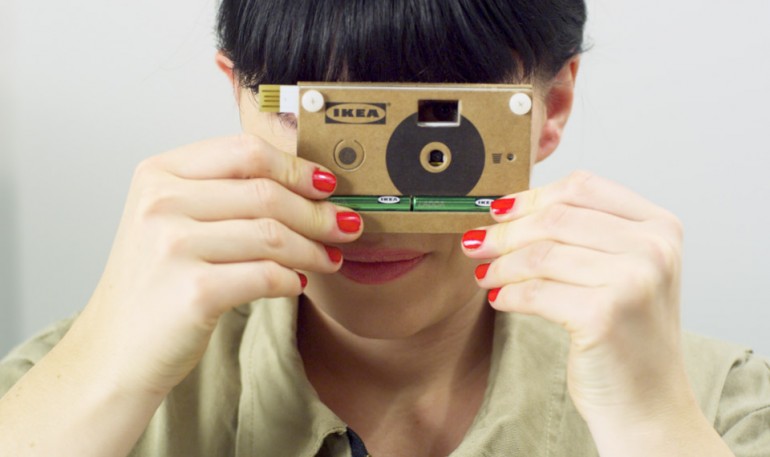 The IKEA KNÄPPA Camera is as a simple as it can get. Running on two AA sized batteries it boasts a very mediocre 2.3 megapixel and has an internal memory capable of storing up to 40 photos. You can then manually transfer the photos to your camera using the foldaway USB stick on the upper corner which looks really handy.  But that's not a real surprise coming from a company that leads that way in creative handy solutions in furniture. 
The On/OFF buttons doubles as the shutter release button, just keep the button down for couple of sections and the green light will illuminate indicating that the camera is ready to capture your photos. When you are very well done with your photos you can simply insert a paperclip into the reset button or just delete them manually from the computer.
As any other IKEA product, the KNAPPA camera does come with a set of instruction as you can see below. It is probably the first time IKEA has printed a set of instruction for an electronic device as we know most of the instructions will require you to use a hammer.
The main reason that attracted me to the KNAPPA camera was obviously not its super megapixel count or its sensor size. However  its simplicity and how it actually resembles a pin hole camera, the view finder is basically just a cutout in the cardboard. In order for you to zoom in and out, use your feet. The camera will take a 3 second exposure and another 8 seconds to process the image. What it does is, is actually bring back memories of a disposable camera and the days when using film. You compose your shot, snap and hope for the best, with  no LCD screen to check your shot, this actually means you will take a a few extra seconds to compose your shots properly.

The KNÄPPA Camera is however not for sale, as its a limited edition item and was previously given away in IKEA outlets in the UK. For Malaysians looking to own this camera all you need to do is use your mobile phone to snap different themed photos for each week and upload them via Istagram, there are 120 units up for grabs. I must say it is kinda ironic that you are to use a much more expensive camera in order to win a cheap one. You can find out more on IKEA's official page here.
Jesper Kouthoofd introducing the IKEA KNÄPPA Camera:
Source: IKEA
Latest posts by Andy Saiden (see all)