I guess it goes without saying that Thailand will always hold a special place among travellers to South East Asia, ask any European who has travelled to The Far East and they will almost certainly tell you that Thailand is a beautiful and special place to visit. It is often described as the gateway to Asia for westerners and for Asians it is the home of Tom Yam.

Now Thailand has a lot to offer, however I will keep it short this time around and focus on Railay Beach located in Krabi one of the Southern provinces of Thailand which is much closer to the boarders of Malaysia than it is to the capital city of Bangkok. Krabi is famous for being the gateway to a handful of famous tourist destinations such Phi Phi, Koh Lanta and Maya Bay.
Krabi Airport is probably as close as you will get to Krabi Town itself as most tourist will either head straight to the closest jetty to be sped off to a more remote location . For the most including myself we end up in the small town of Ao Nang, a beach town filled with hotels, restaurants, bars and markets. Giving massive smiles to tourists, and a starting point to most backpackers. Lodging and food is relatively cheaper here compared to that on the islands or Railay Beach.
Depending on the time you reach Ao Nang, some tourists would opt to stay a night here before taking the Long Tail Boat (water taxi) over to Railay Beach. There are some that just prefers to stay in Ao Nang and take island hopping packages or day trips to Railay Beach.
It is perhaps a bit confusing to some, however Railay is not an actual island. Technically it is part of the mainland however getting here is not possible by land as it surrounded by these large limestone cliffs, walls, hills or whichever you wish to call it. So the only way in and out is with a long tail boat.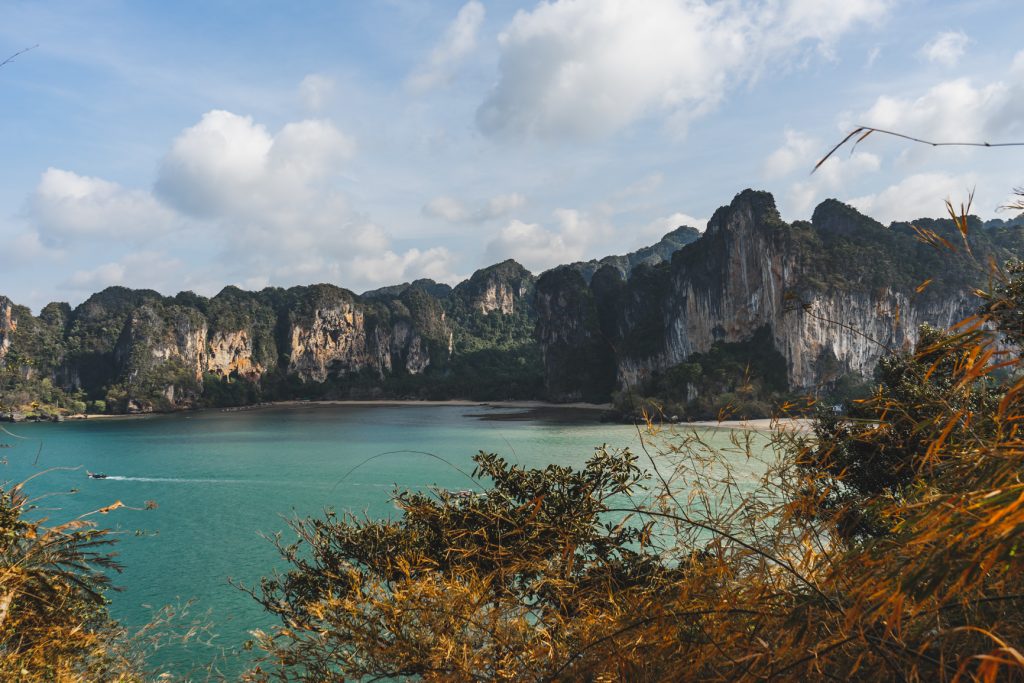 It's unique that you get an island vibe on Railay, everyone is relaxed and take life a little bit less serious. Probably due to the fact that there are no cars or roads on Railay. That reminds me if you're taking a day trip, the last long tail leaves right after sunset.
Over the years I learnt that there are two types of travellers who come here, the sun seeker and the adventurer. The latter referring mostly to rock climbers.
For years this place has been a popular destination for rock climbers across the world. Climbing tall limestone spires that rewards breathtaking views of the bays and across the sea. Various walls with grades ranging from easy to extremely hard, we get a good mix of climbers here. You can even find shops offering guided climbs so if you're just starting out there is something for everyone.
When the sun sets and the hunger sets in, no matter what your purpose was to be in Railay, everyone ends up at the restaurants and bars by nightfall. Enjoying a variety of cuisines from local Thai delights such Tom Yam, Green Curry, Phad Thai and Fried Rice. For the less adventures there are always the options of pizzas, pastas and other western dishes.
At around 8pm, right after sunset the bars spring to life with music and fire shows giving everyone some entertrainment while sipping down cold beers and cheap cocktails. I would strongly advise against the cocktails, Stanly Morgan Rum ( Captain Morgan is what you normally drink) might give you a bad hangover the next day.
Friday nights are little special with young kick boxers putting on an intense fight for the crowd. I cannot be certain if they were really going all in or where just bloody good actors. But anyway we were all entertained, and getting buzzed on cheap booze.
Just like Railay West, Phra Nang beach is not much to brag about in terms of the water clarity. However it is the views that draws in the crowd here, the limestone islands and cliffs paint a very picturesque scenery. To get here it takes about 10 minutes to walk from the busy hotel areas of Railway East, and you will pass through a narrow passage that leads you through the side of the cliff and between the walls that is the perhaps of the most expensive hotels in Krabi, called the Rayavadee.
The mobile restaurants or convenient stores are indeed unique, offering cold beers and even hot plate of stir fried Phad Thai. These boats will certainly keep you satisfied through the daily sun bathing and crowd watching by the beach.
Before I end my small write up on Railay, I cannot recommend enough how fantastic it was to take the evening on board the Krabi Sunset Cruise, on a wooden Siamese Junk sailing out to the five islands – Poda, Tup, Si, Ta Ming, Wasam & Gai where we spent the afternoon swimming, snorkelling, taking in the breath-taking scenery of the surrounding islands. At sunset we had a mouth watering Thai Buffet and end the day swimming in the bio-luminescent waters next to Pranang Beach.
[ngg src="galleries" ids="4″ display="basic_thumbnail"]