Earlier last month Sony released the latest version of the Android 4.4.2 KitKat update for the Xperia Z series device with build number 10.5.A.0.230 for Xperia Z, Xperiz ZL, Xperia ZR and Tablet Z. The problem soon came when many Xperia users who upgraded to Android 4.4.2 10.5.A.0.230 build reported to have quick battery drain issues as well overheating due to too much load placed onto the CPU.
Personally I have struggled to keep the phone (My Xperia ZR) on throughout the day as the battery drain has been absolutely horrible, by lunch time I am normally left with only 40% battery and the phone tends to heat up in my pocket. Sony has now acknowledged the battery performance issue and notes that they have identified the root cause of the battery issue that is related to latest version of Google Play services 4.4.52.
Sony statement on Xperia Z
We have investigated the issue with Google Play Services using a lot of battery and we have identified that the root cause of this is related to the latest version of Google Play Services (4.4.52).

Until a new version of Google Play Services is provided by Google we urge users to either uninstall the latest update of Google Play Services (might limit use of Google Services like YouTube) or go to Settings > Google (accounts) > Ads > Tick the box for Opt out of interest-based ads and also disable back up of your data by going to Settings > Backup & reset (Personal) > uncheck the box for "Back up my data".

If you are unable to uninstall the update for Google Play Services from Settings > Apps, go to Settings -> Security -> Device administrators and disable "Android Device Manager". Also check the settings in the Play Store so that automatic updates is not enabled as this may update Google Play Services again automatically.
How to resolve the issue.
After scouring the internet, looking for solution. I came a across a few forum post which has similar solutions to fixing the problem. As it did not require me to uninstall any applications or downgrade the version of my current android, I decided to give a shot and to my surprise it worked.  Here is the Sony Xperia Z Series Battery Drain Fix on Android 4.4.2 step-by-step
1. Disable your Wi-Fi, Bluetooth, Mobile Data and NFC.
2. Disable Location services (GPS)
3. Clear the cache for every Google service and app on your phone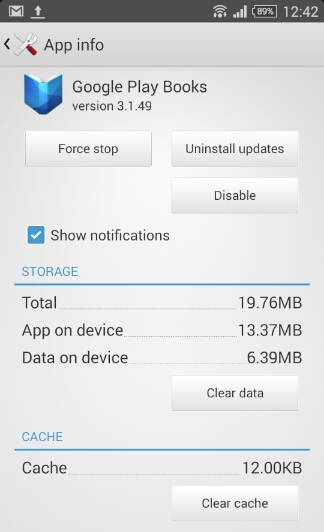 4. Turn OFF the phone and let it rest for a few minutes
5. Turn ON the phone and leave all the functions you've disabled in Step 1 off.
6. After 10 minutes or so you can enable Wi-Fi, Bluetooth, Mobile Data, NFC and Locations Services again.
So far this has been the best solution for me, and my Xperia ZR is no longer over heating or rapidly discharging its battery. However I cannot guarantee that this fix will work on all Xperia Z series however do I think its worth a try. Please do let me know if it helps.
Latest posts by Andy Saiden (see all)