One of the most famous monuments located in South East Asia, Angkor Wat is also considered to be the largest religious monuments in the world. Originally it was constructed as a Hindu temple for the Khmer empire, however it gradually shifted towards a Buddhist monuments in the end of the 12th century. For many years I had planned to travel to this world renowned destination however only recently was I able to make the journey. The flight from Kuala Lumpur to Siem Reap only takes only 2 hours, and AirAsia flies daily, which is very convenient however do take note on their flight times. As there are only one flight a day and their timing is not the same for each day.
Siem Reap is a booming city and is growing rapidly from the tourist influx. Situated 15 min from the airport and only 5KM  from the Angkor Wat Archaeological Park, the city is the centre for where all tourists will converge. Accommodation here ranges from the lavish 5 star hotels to backpackers hostels. In terms of food, you will not be short of choices, as most restaurants and hawker stall serves both traditional Cambodia (Khemer) dishes along with western dishes for the less adventures tourists.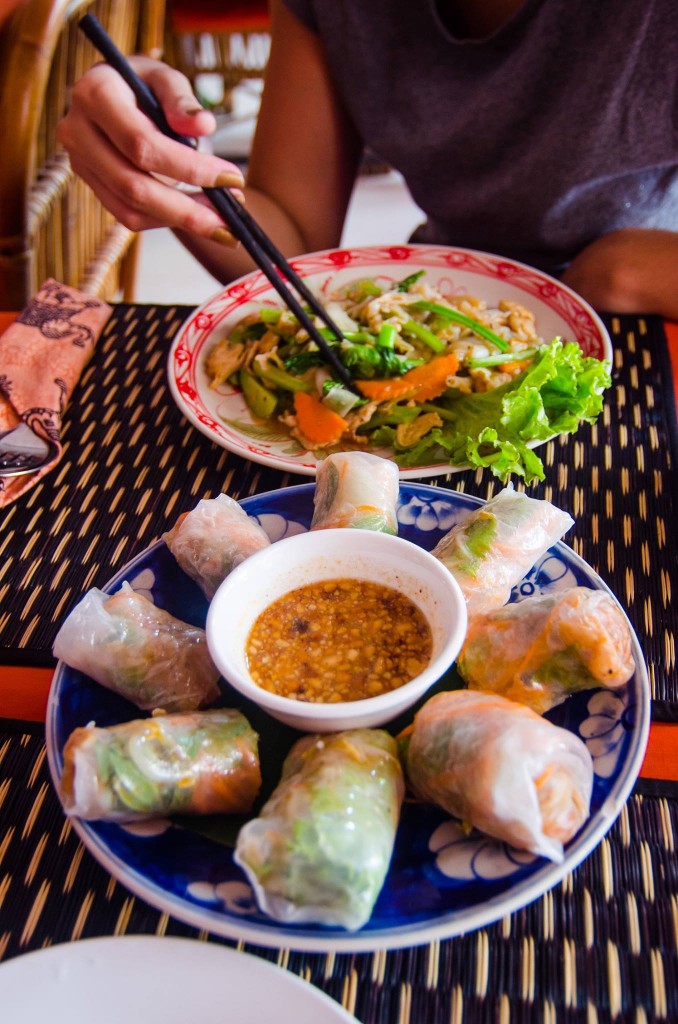 It's pretty much goes without saying, if you are traveling to a foreign land be sure to experience the most of it. Taste the food and observe their cultures and traditions. Khmer dishes are very similar to that of  Thai cooking however are not as spice filled as the former. Also you get far less spiciness from Khemer dishes.
Sadly due to the large influx of foreign tourist the local currency is not as common as the favoured US dollar. This means that everything you pay for will be charged the US dollars. In my experience of travelling throughout South East Asia, I found that Siem Reap is perhaps the most expensive place to be in. A plate of fried rice or noodles will cos you around USD 3.50 to USD 5.00. A bottle of water will cost you at the very least USD 1.00. Surprisingly it would still be cheaper to have a meal in Singapore in comparison to the food prices here in Siem Reap. And just to mess with you budget a glass of draft beer will only cost you USD 0.50, so yeah beer lovers are safe.
The entrance fee for the Angkor Archaeological Park is not cheap, however I do consider it to be worth it as the funds from ticket sales go directly to the conservation and restoration of these old monuments. Per person it is USD20.00/day and for a three day-pass it will cost USD 40.00 per person. For children under the age of 12 its FREE. ( Aiden was very happy about that)
Exploring the entire park will take many hours and it is advisable that you plan the journey before venturing into the park. There are a few different means of getting around the area and bare in mind that you will cover many kilometres getting from one temple to the other. A very relaxing and eco friendly way of getting around is by hiring a bicycle which starts from USD3.00/ day, prices will vary depending on the type of bicycle that you wish to rent. A more comfortable MTB will cost around USD5 to USD8.00
Perhaps the most popular way of getting around is hiring Tuk-tuk which is basically a motorbike that has a carriage attached to it. Prices will start around US12.00 to US15.00, also you will need to add an additional USD 3.00 for early sunrise tours. This was the most practical options for us traveling with a young toddler, and also the cost was per Tuk-tuk and not per person. Each Tuk-tuk will accommodate up to 4 adults.
Just a quick tip for those who are travelling with babies, toddlers or young children, using a stroller is not recommended as the surface area will vary from sand, uneven cobbles and stairs. Therefore a baby carrier is perfect for traveling around Angkor Wat. It also helps keep your little one secure during the tuk-tuk ride.
The be honest about Angkor Wat is also bursting the bubble of expectation, as the initial thought of exploring an old temple ruin which was only discovered in the late 1890s sounded something out of an Indiana Jones movie. However the reality is that the main temple of Angkor Wat is swarming with tourists, there are just so many people trying to get a glimpse of the famous temple. Perhaps due its popularity or the fact that it was one of the youngest monuments, made me not choose it as the favourite.  Instead it was the older crumbling temples that romanced me with its beauty. The giant trees growing out of the large temple was a sight of splendour, which is probably why "Ta Phrom" was the set of the famous movie Tomb Raider.
Essentially both the movie and Angelina Jolie who stared in it help make this south east Asian country famous. Ever since the movie was released a storm of tourists has swarmed to see beauty of the ruin temples.
Due to the heavy traffic of tourists some parts of the temples have been made off limits, as you can see here the famous doorway which was featured in the movie has now been blocked so you will now have to stand behind a small fence to capture your photo or selfie.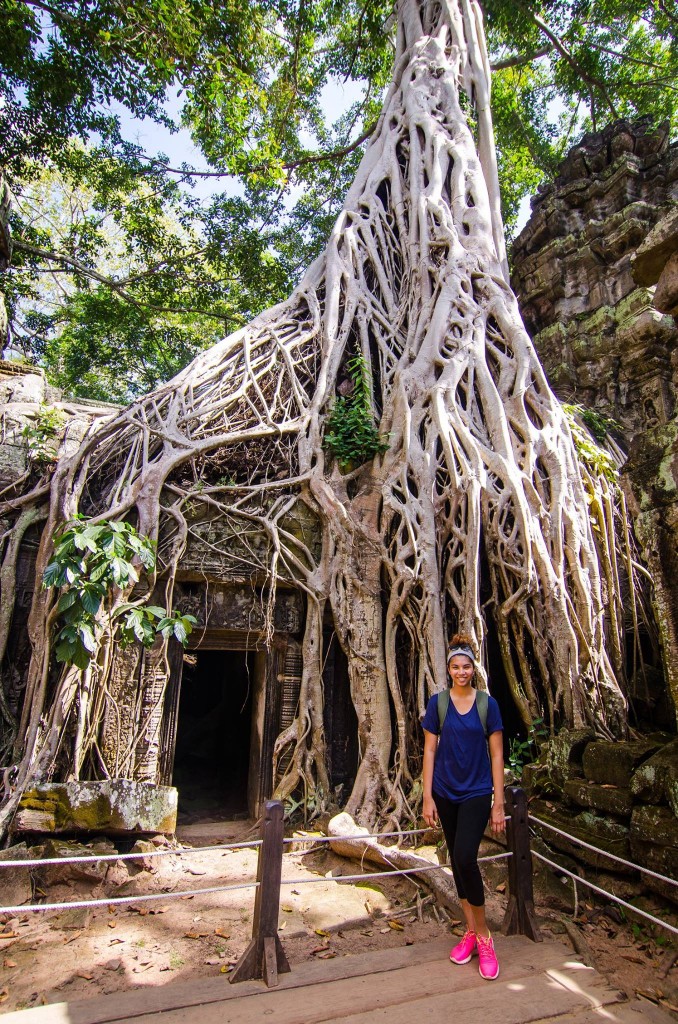 One of my favorite temples was the Bayon temple located within Angkor Thom. The area itself is around 9 square kilometers and houses several temples which were built in different times.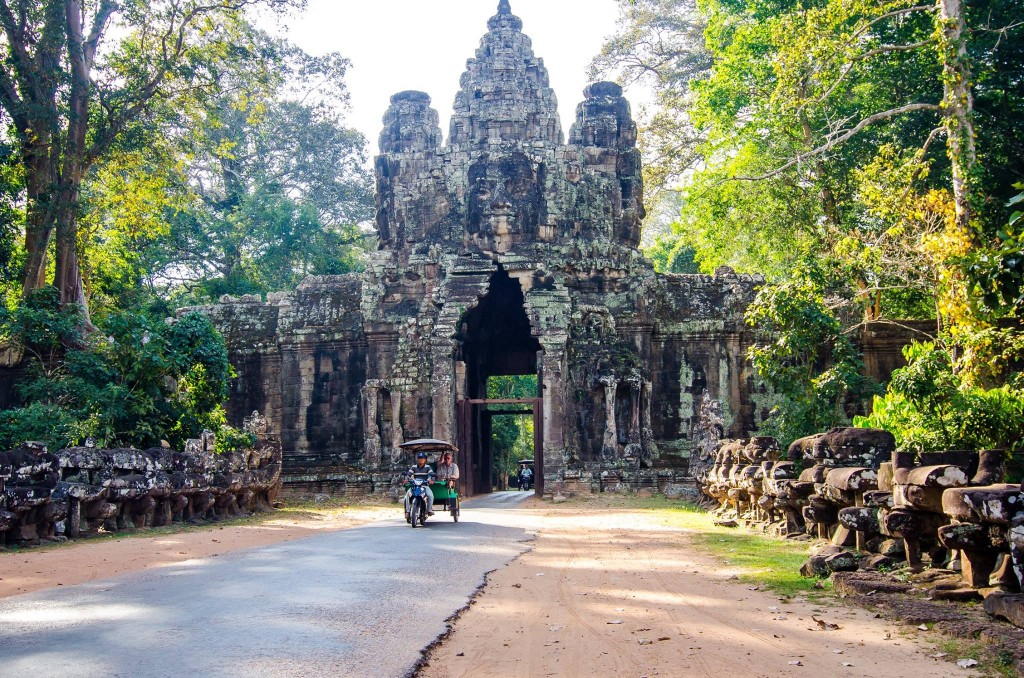 Bayon temple's most distinctive feature would be the multitude of serene and smiling faces carved in stone.
The temple style is very different from that of Angkor Wat and walking around the compound you will quickly realize that there are faces smiling down on you, with 54 towers and 4 faces per tower, it is hard not to be be mesmerised  by the serenity of the smiling faces.
[wp_ad_camp_1]
It may not be covered very well in some guides in regards to the the strict rules that apply to some temples around the Angkor Archaeological Park, however in our 2 day of exploring the temple ruins. These applied only to highest point of Angkor Wat and Baphuan Temple where children below the age of 12 are not permitted to enter and neither are those who are dressed in shorts, skirts and sleeveless  attire. The guards are very friendly but yet strict about the rules, so I would strongly advise to bring along a sarong or a pair of pants to enter these places.
I should also point out that you should not make loud noises when visiting these temples as it will ruin the experience for others and there also some who come to mediate.
As we made the journey to the less prominent temples the masses of tourists started to thin out, it was evident that the majority of the crowed are not too keen on visiting the temples on the "large circuit". This was no doubt refreshing and made the experience perhaps more memorable.
Perhaps of one of the more under rated temple on the list would be Preah Khan, which is by no means small. The compound extends to about 138 acres and it is largely un-restored with numerous trees and vegetation growing out of the ruins. The temple is surrounded by a moat similar to that of the entrance to Angkor Thom. I found this particular temple to be very enjoyable and more relaxed.
I realized that if you are going on the grand tour or "large circuit" try to go in reverse and start with the older temples leading up to the young and grander temples such as Angkor Wat and Bayon. This will surely make the journey more enjoyable and slowly build the excitement.
On our trip we saw the much older temples towards the end of the tour and it did take away some of the excitement as seeing all the grander and larger temples at the start of our journey. By no means where they boring, however they were simply overshadowed.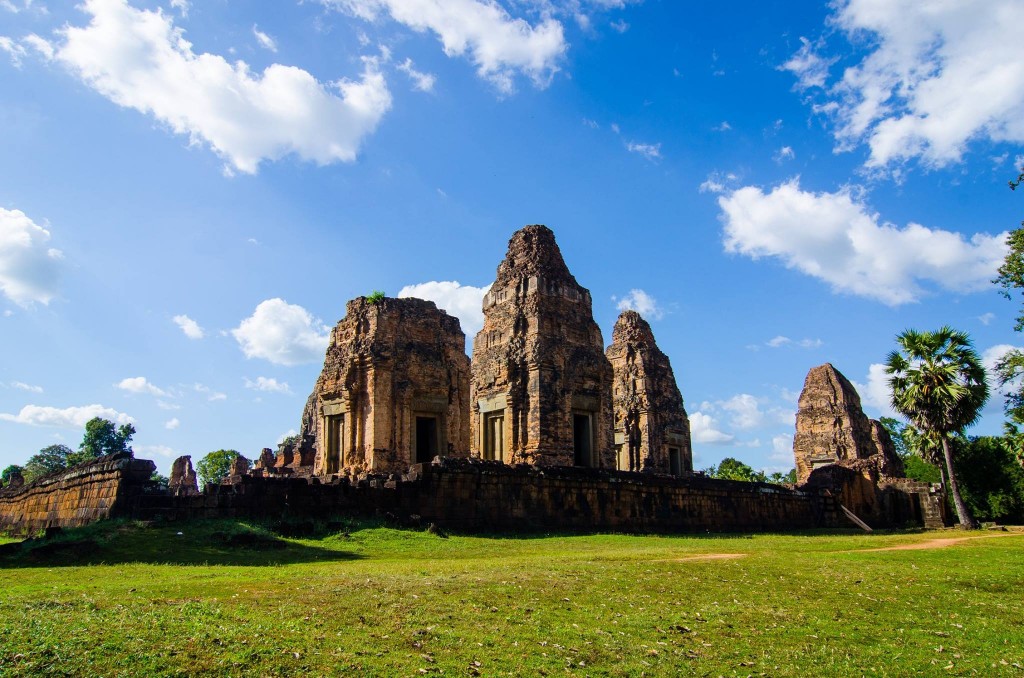 To round up our the trip I would highly stress on getting the 3-Day pass, as trying to squeeze in everything in one day is going to be stressful and impossible to appreciate all the splendors that these old ruins has to offer.
Here are a few tips that you should keep in mind when traveling to Angkor Archaeological Park:
Plan the visit ahead depending on your means of transport.
Bring food and water along as the prices will double at restaurants and stalls in the Angkor area.
Be sure to pack long pants or a sarong if you are wish to wear shorts to gain access to more strict temples.
It can be cheaper and more convenient to hire a  tuk-tuk as it seats up to  4 people and will only cost around USD 15 per day. You will have to add USD 5 -10 for the early sunrise trip.
Take your time and enjoy the small details, rushing through could mean you would miss something.
Skip the museum as it's expensive costing USD12 per person and most of the information can be found online or through books.